Neck pain can begin at the base of the skull and continues down the neck and can affect the upper back and shoulders. In addition, the neck is susceptible to injury from moving wrong, overextending, and auto accidents (whiplash). Neck pain can be very bothersome and can interrupt your daily routine. Find pain relief by getting chiropractic care for non-invasive, drug-free treatment options.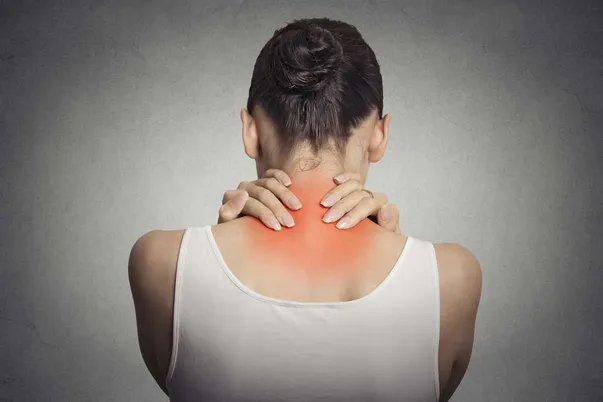 Our chiropractor at Drassal Chiropractic & Sports Clinic can treat patients in Shoreview, MN, Minneapolis, MN, and St. Paul, MN, with neck pain treatments.
What Is Neck Pain?
Neck pain is a common complaint among chiropractic care patients, which is caused by many things, including accidents, injuries, and poor posture. Symptoms can vary depending on the root cause and severity of the damage. Common symptoms associated with neck pain may include headaches, pain that worsens during movement, muscle tightness, spasms, and decreased ability to move the head.
What Causes Neck Pain?
Several things can cause neck pain, including traumatic injuries and accidents resulting from the sudden forced movement of the head or neck. For example, whiplash is a common auto injury caused by the sudden whipping motion of the head, which can damage the tissues around the head and neck, causing pain.
Other common causes of neck pain include aging, osteoarthritis, spinal stenosis, degenerative disc disease, and poor posture. Also, what we do in our daily life, such as work on a computer, do heavy lifting, or work bending over a workbench, can cause aches and pains in the neck.
How Our Chiropractor Can Help with Neck Pain
Our chiropractor can evaluate your neck pain by conducting an examination. He may order imaging tests, such as X-rays to get a better idea of the problem. Then, depending on the cause of the neck pain, our chiropractor can provide a treatment plan, such as adjustments, lifestyle advice, and corrective exercises. These treatments are designed to provide non-invasive, non-addictive pain relief.
See Our Chiropractor for Your Chronic Neck Pain
Do not let neck pain hinder or affect your quality of life. Instead, see a chiropractor to learn more about how chiropractic care can help give you pain relief. Our chiropractor at Drassal Chiropractic & Sports Clinic can help patients with neck pain relief treatment. Call our office at (651) 484-4000 to schedule an appointment and learn how we can help you find relief for your neck pain symptoms. We currently accept patients in Shoreview, MN, Minneapolis, MN, St. Paul, MN, and the surrounding areas.